Behavior Imaging Solutions has developed and now leverages several key strategic partnerships with the following organizations to complement its core expertise. The below graphic represents many of the national and international health organizations that have played some role in the research or the successful commercial applications of Behavior Imaging. Below this are some of the early integral partners that helped us get started, to who we are especially grateful.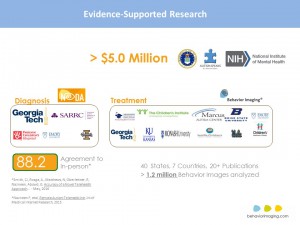 Georgia Tech Research Corporation
Behavior Imaging Solutions has exclusive worldwide license to patent-pending data capture technology formerly named 'CareLog' (renamed 'Behavior Capture'), which was developed at Georgia Tech.
Website
Virtually Better, Inc. (Decatur, Georgia)
Behavior Imaging Solutions and Virtually Better, Inc. (VBI) have teamed up to deliver pioneering technology to the U.S. Air Force for the purpose of enhanced clinical training, treatment, and consultation of behavioral problems and posttraumatic stress disorder (PTSD). VBI is known worldwide as an innovator in the creation of evidence-based virtual reality environments for the health care industry, with an emphasis on cognitive, emotional, and behavioral disorders.
Website
TalkAutism was a leading communications network providing freeonline services for families and professionals dealing with autism through its acquisition in 2007. Behavior Imaging Solutions had partnered with TalkAutism to provide the autism community improved access to treatment through Behavior Imaging technology.
Syna Intelligence is a Boise-based company created by two scientists to develop optimal solutions for real-life systems. It is the leader in R&D for the design of technical solutions arising in medical field, e-commerce, bio-informatics, and also open to other innovative fields. As a widely recognized innovator in state-of-the-art web design, customized solutions in technical areas with optimal value, flexibility, and dedication to customer service.
Website