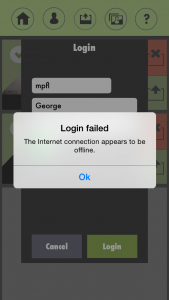 Receiving this error message means your device is not connected to the internet.
If you are in proximity of an internet connection, then this means that your device's Wi-Fi option is turned off.
In order to fix this, please follow Apple's steps on how to turn your Wi-Fi on by clicking here.
https://behaviorimaging.com/wp-content/uploads/2015/08/Screen-Shot-2017-04-03-at-3.11.34-AM.png
136
205
willoberleitner
http://behaviorimaging.com/wp-content/uploads/2014/03/BehaviorImaging_r_406x1651.png
willoberleitner
2015-08-09 03:51:44
2017-04-03 09:21:42
Error Message: "Login failed: The internet connection appears to be offline."