Behavior Imaging is known for our dedication to telehealth solutions that focus on and extend beyond autism. We're constantly exploring innovative technological advancements that improve access to healthcare and services for individuals with autism. Recently, we had the chance to be part of a 'metaverse' community experience, an opportunity we couldn't resist.
Our co-founder, Ron Oberleitner, and his son, Robby, participated in the first-ever Neurodiverse Community 'Virtual Pavilion', a showcase of 3D art and self-expression for those with autism.
Collaborating with immersive technologist Kathleen Cohen on her community based project for the Surel's Place art residency (Link to Project Overview), her aim was to bring together people from Indigenous and Neurodiverse communities to share in authentic storytelling fashion where the commonalities are found. Additionally with the help of designer Julez (Julio Gonzalez) of the Autism XR Institute (AXRI Website), ArtAbility Uidaho, and local arcade VR1; together they developed 1 of 5 3D environments among Kathleen's dedication, each accessible via any device with WiFi capabilities.
With these collaborators, Behavior Imaging took part in a multi-user 3D environment in Spatial.io. Websites like Spatial.io are called Web-Based Meeting Platforms, early forms of Metaverse locations that allow viewers explore an interactive 3D environment. These platforms can be accessed via Web Browser, Mobile Phone, Augmented Reality, Mixed Reality, and Virtual Reality devices all in synchronous!
Using this interactive multiuser experience, Robby's art was punctuated by hand-drawn letters, exquisite calligraphy, and nostalgic scenes from beloved classics like Barney the Dinosaur, offers a unique lens into his world. As you can see in these videos, Robby is reaching out with his hands and drawing a live 3D painting.
In this collaboration, the spaces developed were geared toward community storytelling among Neurodiverse and Indigenous organizations. Partnering with AXRI to develop the space dedicated to neurodiversity, we explored what's possible in regards to non-verbal communication using a 3D paint tool in the VR headset! (Link: See the space for yourself here!)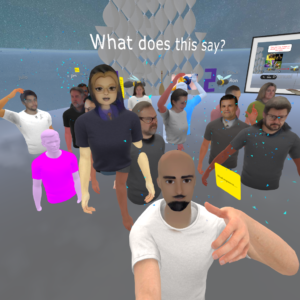 At Behavior Imaging, our conviction is unwavering. We see technology not just as a tool, but as an ally – one that dismantles barriers, enabling those with autism to weave their narratives into the larger tapestry of our shared human experience. This metaverse initiative wasn't merely a demonstration of VR's capabilities; it was a testament to the collaborative spirit, innovative drive, and deep-rooted compassion that paves the way for transformative experiences.
We cordially invite each one of you to partner with us, stepping into the vast, limitless realm of emerging technologies. Let's craft a world where every voice is heard, every talent is recognized, and every individual can flourish in their unique brilliance.
Stay engaged with Behavior Imaging for more insights and updates on our metaverse exploration, as we continually strive to harness the magic of technology for the betterment of the autism community.
#BehaviorImaging #VRforAutism #MetaverseEmpowerment #NeurodiversityCelebrated #AutismCommunityInnovates #spatialcomputing #Spatial #Spatialio #3D #3Dpainting #XR #VR #AR #MR #Immersivetechnology #Nonverbalcommunciation #Idaho
https://behaviorimaging.com/wp-content/uploads/2023/09/selfie-300x300-1.png
300
300
developer
http://behaviorimaging.com/wp-content/uploads/2014/03/BehaviorImaging_r_406x1651.png
developer
2023-10-17 14:39:46
2023-10-17 14:41:03
Exploring a Neurodiverse Oasis: BI's Metaverse Experience