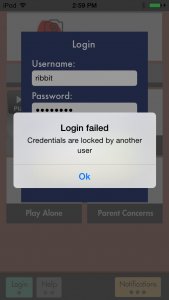 Symptoms –
You open SmartCapture™ and record a video. You want to send your video, so you hit "Login" and enter your username and password. You tap "Login", but an error like this one pops up.
What's Wrong –
Someone else is logged into your name, most likely an administrator.
How to Fix this Problem –
The first thing you should do is wait ten minutes to an hour to see if the user using your credentials logs out. If you still cannot login to SmartCapture™, it is best to contact your administrator and tell them that you cannot login so that they can reset your username and password.
http://behaviorimaging.com/wp-content/uploads/2014/03/BehaviorImaging_r_406x1651.png
0
0
willoberleitner
http://behaviorimaging.com/wp-content/uploads/2014/03/BehaviorImaging_r_406x1651.png
willoberleitner
2014-06-19 21:51:44
2014-06-19 21:51:44
I Can't Log in to SmartCapture™