Though we have seen a rapid increase in autism diagnoses in recent years, dozens of children are still falling through the cracks and a pronounced racial disparity in autism diagnosis has emerged. A recent study from the Centers for Disease Control and Prevention (CDC) identifies 1 in 59 children as having Autism Spectrum Disorder (ASD). However, despite a 15 percent increase in prevalence, more research shows that less than half the children identified with autism (43 percent) have received comprehensive developmental evaluations by the age of three. Now, research shows even more startling statistics amongst black and Hispanic children.  
White children are consistently diagnosed earlier and more often than children in minority households. This blatant racial disparity directly affects a child's future when living with ASD. With access to the right resources, clinical professionals can diagnose a child living with autism as early as the age of two. This kind of early detection is key for a child's treatment and development moving forward. Behavior Imaging is using Telemedicine to prevent these kinds of discrepancies. Learn more about how the numbers really break down and how telemedicine and technology can help us move forward here. 
Contributing Factors 
In a perfect world no child living with autism would go undiagnosed. With access to the right information, parents and clinical professionals can recognize signs of autism in a child's development. Cognitive delays can surface as early as 12 to 18 months. So, why is this information available to only some families? There are several contributing factors leading to racial disparity in autism diagnoses: 
Prohibitive costs

 

Healthcare accessibility

 

Lack of dialogue between doctor and patient 

 

Implicit medical bias 

 
In a recent interview with NPR, Sherry Alvarez spoke out about this kind of implicit bias after her son went undiagnosed for a significant amount of time, "We have to retrain ourselves. It's not OK to hide our kids." 
Experience Proves Positive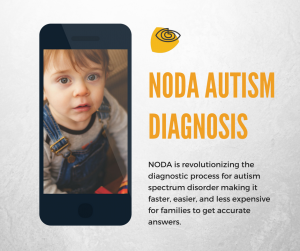 Behavior Imaging has been fortunate to be funded by research grants from the National Institute of Health to test if technology can bridge this gap in earlier diagnostic assessment for underserved populations. Our recent study on NODA Autism Diagnosis for rural areas. One native American family who heard about potential warning signs entered the study. Their ability to securely share behavior samples on video clips captured in their home confirmed indicators for autism to a trained diagnostician who was hundreds of miles away.  The family's diagnosis was expedited as a result.  Witnessing tears of joy after starting helpful early intervention exercises that had almost an immediate positive impact, the grandmother assured us that, without the remote diagnosis tool, they would have been struggling without answers to help her grandchild for years to come.  
We shared this, and 57 other cases involving underserved 'rural' families, in a research poster presentation at the annual Telemedicine Service Provider conference in Glendale, AZ in October 2018.  
A Cultural Overhaul
There is more to this issue than cases simply falling through the cracks. It permeates on a deeper, cultural level. In 2007, a study by a team at the Center for Autism and Developmental Disabilities Research and Epidemiology found that African-American children were 5.1 times more likely to be misdiagnosed with various conduct disorders before being diagnosed with autism. Thankfully some clinics are starting to take note of this disparity. Westside Regional Center in Culver City is taking advantage of a grant to investigate their intake and treatment patterns.  
"We've implemented a series of trainings with intake counselors on cultural awareness and sensitivity, and we're starting to have a lot of conversations about biases," says Tom Kelly, Westside's chief psychologist.  
However, not all families have access to clinics such as Westside Regional. Options are already limited and, though ASD affects all races and ethnicities, black and Hispanic families seem to experience even more limitations. For these families especially, there is a need for an innovative and accessible answer that helps put an end to racial disparity once and for all.  
Sources:  
https://behaviorimaging.com/noda/  
https://www.helpguide.org/articles/autism-learning-disabilities/does-my-child-have-autism.htm 
 https://www.autismspeaks.org/news/news-item/cdc-update-autism-shows-gap-between-early-concerns-and-evaluation 
https://en.wikipedia.org/wiki/Epidemiology_of_autism#Frequency 
https://www.jaacap.org/article/S0890-8567(09)60739-5/abstract 
https://www.npr.org/sections/health-shots/2018/03/19/587249339/black-and-latino-children-are-often-overlooked-when-it-comes-to-autism
https://behaviorimaging.com/wp-content/uploads/2018/10/nathaniel-tetteh-300252-unsplash.jpg
3072
4608
Intern Behavior Imaging
http://behaviorimaging.com/wp-content/uploads/2014/03/BehaviorImaging_r_406x1651.png
Intern Behavior Imaging
2018-10-11 16:08:40
2018-10-11 16:08:40
Racial Disparity in Autism Diagnoses